A 'Simple' Job? Think Again
A 'Simple' Job? Think Again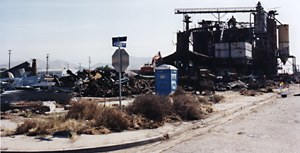 At first glance, the demolition of an abandoned, dilapidated feed mill in a small Southern California town may seem like a straightforward enough project. But, on closer inspection, and recycling show how today's demolition contractor must posses a wide range of professional skills to complete a project safely and cost effectively.

AWS Construction Services, Inc. of Long Beach, Ca, began work at the run down 67-years-old feed processing mill owned by Union Pacific Railway (UPR). The project was located in the town of Porterville, a three-hour drive north of Los Angeles in an area directly across the street from the local residents. A major eyesore, the 30,000 square-foot facility also turned out to be major safety hazard to the community.

"It was a perfect example of the unseen an unexpected concerns that face our clients today, especially in light of the tough federal, state, and local environment and safety requirements that we need to comply with," said Dick Dadourian, president of AWS. At the UPR Porterville site, the deteriorated structure required both asbestos and lead abatement before actual demolition could begin. This led to hazardous waste transport and disposal, coordination with the EPA and regulatory agencies, notification of the state of an underground dig alert, and the submission of all necessary paperwork.

"Although the demolition portion of the job is the most physically demanding, it was actually the 'fun' part. All the services we provided in advance of the demolition entailed a great deal of effort and an extensive level of knowledge and expertise based on our years of experience in various types of projects and hazardous material work," explained Dadourian, who is a member of the National Associate of Demolition Contractors (NADC) and its Environment Affairs Committee.

The project was a great example of the NADC'S theme of transforming the undesirable into an opportunity for renewed use for the community. " The Porterville neighbors sat happily on their porches watching the job's progress and giving us the 'thumbs up' for removing the terrible eyesore," he said.

It also yielded large amounts of recyclable materials, nearly 95 percent. Most of the facility was constructed of metal, which was trucked to a scrap dealer for recycling. A working truck scale was sold to a local trucking company and concrete was trucked to local crusher for recycling, with only a small amount of material ending up in the landfill.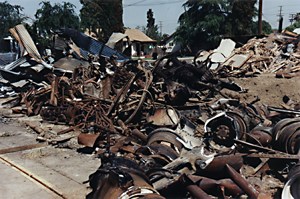 AWS Construction Services took 10 days to complete the actual demolition, using an excavator with a shear attachment, an excavator with a pulverizer attachment to crush the substantial amount of concrete on site, and a track loader to move materials.

Safety was key concern in this project because of its proximity to homes in the neighborhood. The lead and asbestos abatement activities were monitored very closely by AWS, as were other aspects of the project. "A professional contractor knows you can't take a single short cut, or you'' end up on t.v news at 11, not to mention the litigious risk you expose your client to," the president said.

According to Dadourian, a representative for UPR praised AWS for the quality of the work, the speed of completion, and the level of safety. "It's good to deal with a company that understands and appreciates how attention to detail can keep you out of trouble that can come back to haunt you and your client," he said.

"It's essential that demolition projects be evaluated and viewed as a system of services, not just as the act of bringing a structure down. AWS has the ability to provide a turnkey service that addresses all aspects of the project: environment site assessment, environment remediation, investment recovery, and demolition. This allows the client to have one company to deal with, rather than three to five. It's important for prospective clients to consider the value of using the company like AWS that furnishes a complete selection of services, which in turn delivers value to the client," Dadourian noted. "It's a cutting edge solution that's cost effective many times over to our clients." .