Precise Coordination Key to success of Santa Ana Demolition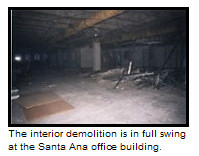 Ask any reputable demolition contractor what is most important when performing a demolition project and you'll probably hear things like experience, knowledge, and skill. But without precise coordination of time, activity, and the work of related tradesmen, the project can quickly turn into chaos for you and your client.

Just ask AWS Construction Services' (Long Beach, Ca.,) Dick Dadourian, who faced the challenge of completing an interior demolition of a 10-story building while one tenant was still present, and construction crews installing new tenant improvements worked side-by-side with his workers.

"As we were bringing debris down the elevator, drywall people were coming up so they can get work started," he said. "It took a lot of coordination by my project manager and foreman to keep everything running smoothly for the client," Dadourian said. The building, located in the Los Angeles suburb of Santa Ana, is owned by 401 Capital City Tower. Constructed in the mid-'50s, it was undergoing a nearly total gut-out in preparation for being remodeled into new offices.

Starting on the top floor, the crew used exclusively hand labor with demo picks and bars to complete the interior demolition. All previous tenant improvements, including ceilings, partition walls, carpeting, and floor covering had to come out of each 10,000-square-foot floor. "As soon as we swept up and finished up one floor, the construction trades were rights in there after us," he said.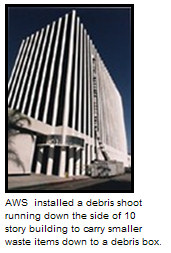 When the AWS Constructions Services crew came to the 7th floor, they had to make a detour. The tenant - who demanded extra time to move - stayed in place for a period time, requiring the crew to skip from the 8th floor to the 6th floor. Once all the floors were done, they completed their work on the 7th floor.

AWS Construction Services' crew installed a debris shoot outside the building to drop down smaller items into a waiting debris roll-off box. But larger items, such as metal studs metal ceiling grid, and HVAC ducting, had to be brought down via the elevator. "Just coordinating traffic on the elevator alone was a challenge," remarked Dadourian.

AWS Construction Services staffed the job - which lasted five weeks - with a 10-man crew. The aging building required asbestos abatement, as well, which is an area of specialization for AWS. Asbestos was found in the floor tile, pipe insulation, and in some areas of the dry wall mud, with the amount of work varying from floor to floor.
Other hazardous material which had to be disposed of properly were scores of fluorescent bulbs, which contained trace mercury. "Both these and the PCB ballasts had to be recycled properly to meet environmental regulations," explained Dadourian.

"Being well versed in the proper deposal of hazardous materials is an area where we are very diligent. The cost of proper deposal is not that much in comparison to the potential penalty that could be incurred if the EPA or local agencies inspected the site. It is in the client's best interest to go with a professional contractor who covers every aspect of hazardous materials disposal for the project."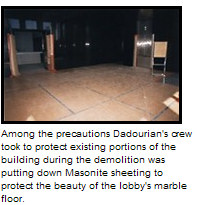 In addition, Dadourian and his crew conducted safety meetings every few days and consequently experienced no safety violations or injuries. "CAL/OSHA is very diligent on job site safety, so while we didn't get visited, we were completely prepared for them if they did," he said.

AWS was able to recycle all the metal wall studs, metal ceiling grid, and most of the doors and wood sheeting on this project. One aspect of the job that Dadourian is proud of is the way his crew took precautions to protect existing portions of the building.

They put down Masonite sheeting to protect the block marble flooring in the lobby, for example. "When we finally left the site, you would have never known we had been there," he noted, "except for the fact that we completed the job quickly, safely, and competently."